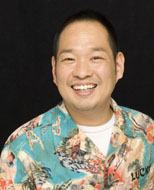 Rakugo -- Japanese "Sit-Down" Commedy -- comes to Central Indiana tomorrow (24 June) when
Katsura Kaishi
(pictured, at right) performs in the auditorium of Carmel High School, 520 East Main Street, Carmel.
Nothing is lost in translation as Japan's premier English rakugo master takes his audience along on a ride through his imagination. Kaishi has performed more than 200 times in 12 different countries. Last year, he was appointed Cultural Exchange Ambassador by the Japanese Ministry of Culture.
Rakugo is stand-up comedy, performed in the traditional Japanese-style: sitting down!With only a towel and a fan as props, Kaishi tells fascinating tales using voice, gestures and facial expressions. The main performance is in English, with a short section in Japanese.
The event is sponsored by the
Japan-America Society of Indiana
in partnership with the Indiana Japan Chamber, Indiana Japanese Language School and the Consulate General of Japan in Chicago.
Tickets are $15. Doors open at 6 p.m., with the performance beginning at 7 p.m.
For information, call 317:635-0123.